I believe that it's important for us to teach/remind students to make sure that they have permission before selecting and using an image that they find online.  Remind students that just because something is posted on the internet doesn't mean it's okay for them to download and use it.
My favorite website for children to use is Photos for Class. The reason that I like this website best, is because the photo source is automatically posted on the image, so children don't have to do an additional step to site the image. This is especially great for children in lower elementary. Sometimes, however, children have trouble finding images on Photos for Class. This is especially frustrating for students who have done the same search at home, in Google Images, where there are many more results.
My second favorite search tool is Google Advanced Image Search. Google Advanced Image Search searches the world wide web. You can filter out explicit results, and narrow your results to images that  you are free to use and share. See the image below to find those settings.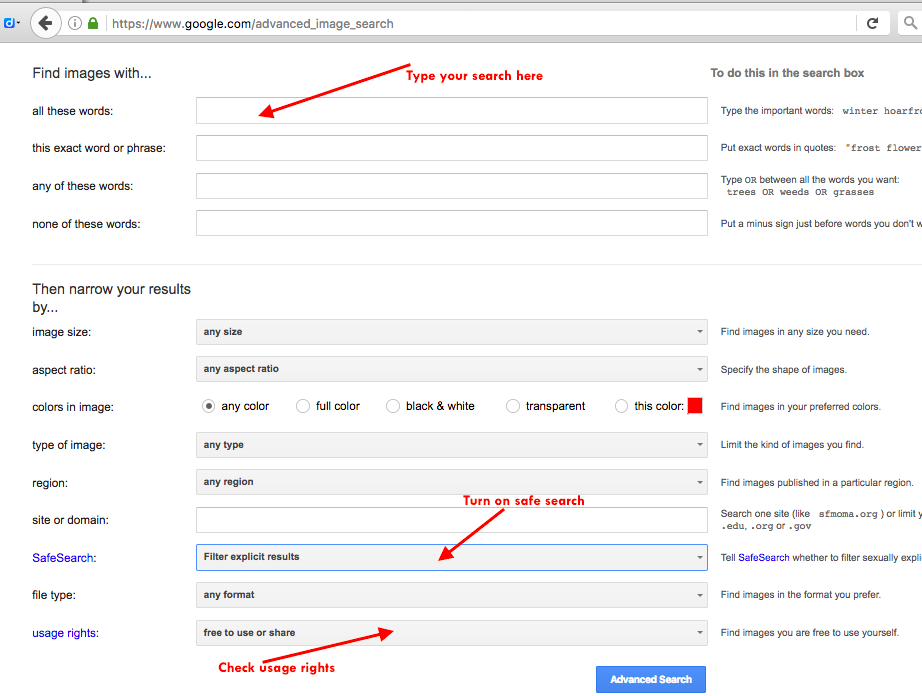 Once you find an image on the web, you have to check the permission images to see what is required of you to use this image. You are usually required to cite the sources, and sometimes, to hyperlink to the original image. Some images are in the public domain and do not need to be cited.
There are a number of other specialty websites that help you find images that you have permission to use.
Related Posts