You search for Picasa web and click the first result, but instead of the interface that you're used to, you see a new, unfamiliar page. What's going on?
Google has integrated Picasa Web Albums with Google+ Photos. When you upload a file to Picasa Web Albums, it also shows up in your Google+ Photos and vice versa. Similar, if you delete a picture in one place, it is also deleted in the other.
In Picasa Web Albums, you can set the permission for your photos and albums as one of three visibility options: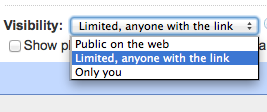 I have two albums that are public, one with limited visibility and one private one. See what my albums look like when I am logged into each account:
People who visit my Google + Profile page can only see my public albums:
To include slideshows to your blog posts, you may upload your photos to either Google+ or Picasa Web Albums, but you must get the slideshow embed code in Picasa Web Albums.
Need help with another step? Post a comment and I'll be happy to create a blog post for your situation.