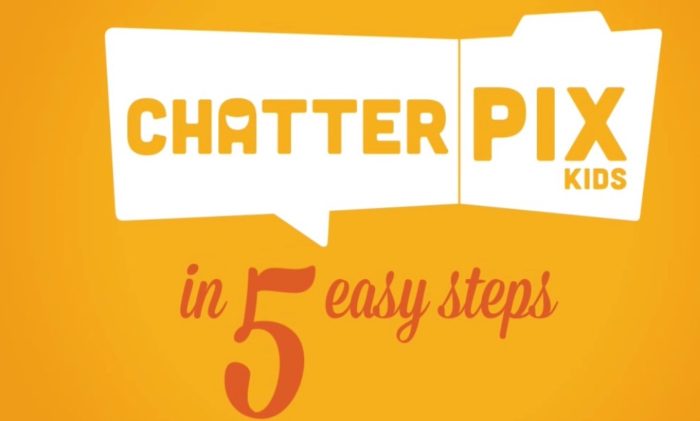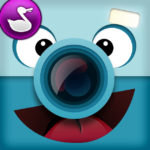 ChatterPix Kids (or ChatterKid) is an interactive app for adding voice and text to any image. Its ease of use makes it very accessible to children, and the 30 seconds time limit forces them to be thoughtful and concise. The app is free, from Duck Duck Moose, and is only available for iOS. When you first open the app, the first thing that you will see is a short video that shows you the 5 easy steps to using ChatterPix.
5 Easy Steps to Creating a Video in ChatterPix Kids
Take/Import a Picture
Draw a Mouth
Record a Message
Decorate
Show your Friend
Features of ChatterPix Kids
Take a photo or use a photo from the Photo Library

Draw a talking mouth to make the video more interesting

Save to Gallery (and edit later) or save to Camera Roll
Ideas for Using ChatterPix Kids
Take a picture of your invention and let the invention describe itself.

Create a talking animal to present your animal research.

Use 3-4 facts from your biography to create a 30 sec video.

Create a public service announcement for your environmental issue to share with students in lower elementary.
Differentiation Using ChatterPix Kids
Give the child the photo needed.

Limit the use of design features (frames, stickers, etc.) to help focus the activity.

Use the stickers and frames to teach design features.
Considerations for Using ChatterPix Kids
Students have to complete the process and get to Gallery for their work to be saved.

Students can combine several 30 sec videos in iMovie to make a longer video
Examples of ChatterPix Kids in the Classroom
Examples of ChatterPix Kids

in the classroom

Do you use ChatterPix Kids in your classroom? Leave a message in the comments.
Have a question about using technology in your classroom? Email info@journeywithtechnology.com.