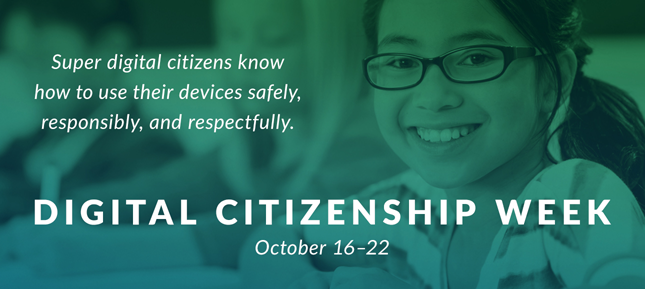 Common Sense Media is highlighting Digital Citizenship Week from October 16 – 22. It is a good time to revisit the ideas of what it means to be a responsible digital citizen. Here are five examples of activities that you are can do with students during that week, or any week:
Give students cards for each (or a subset) of the 9 elements of digital citizenship, and have them come up with a poster, comic, song, or meme for each.
Focus on one of the 9 elements and have students create a pledge of how they will be responsible in that element.
Complete a lesson from Common Sense Media.
Have a technology free day, discuss the why with students, and focus on alternate activities that day. Encourage students to continue the challenge at home that day.
Invite families to have a device free meal, hour, walk, etc. Each child can create his/her own invitation to his/her family, on paper or using a tech tool from class.