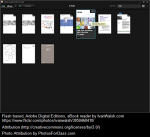 ePub is a standard for books published online. It allows books to incorporate multimedia as well as text. To read an epub file, you need to have software installed on your computer, tablet, or smartphone.
How to Read an epub (on a mobile device)
Check that you have an eReader installed on your device (iBooks or Bluefire Reader are good options), and install one if needed.
Open the epub file on your device.
If the file doesn't automatically open in your eReader, find the option to choose where your file opens (Open in … for iOS).
Alternatives