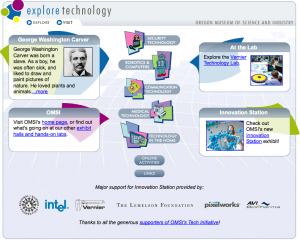 I've been doing some of Intel's Journey Inside the Computer Lessons with my students and came across a link to learn about binary digits.
The Oregon Museum of Science and Industry has created an interactive website with a number of activities related to technology. The website has a section for teachers that profiles a number of ideas for using the site's resources.
Click on the image to explore the website.
Related Standards
http://www.iteaconnect.org/TAA/PDFs/xstnd.pdf
5 Curricular Connection Highlights:
Math (binary conversions –  http://www.omsi.edu/tech/binary.php)
Social Studies + Science (communications tools and methods – http://www.omsi.edu/tech/communications/index.htm)
Art + Science (mixing primary colors – http://www.omsi.edu/tech/colormix.php and resolution and depth – http://www.omsi.edu/tech/resolution.php)
Social Studies (people in technology – http://www.omsi.edu/tech/peopleInTechnology.php)
Science + Technology (giant trackball – http://www.omsi.edu/tech/trackball.php)