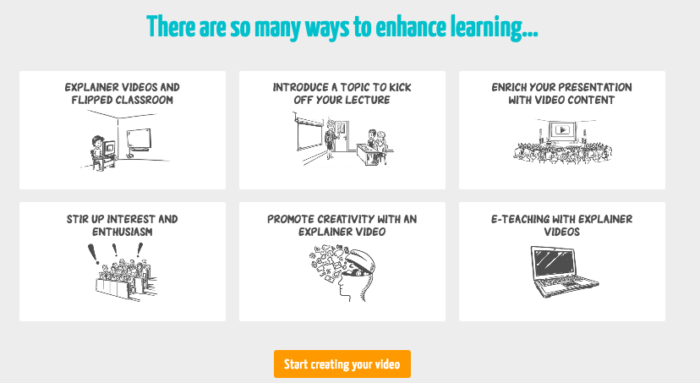 My Simple Show seems like a great new website for creating a video. The platform guides users through four steps:
Draft– upload a PowerPoint file from your computer (max. 20 slides and 50MB size) or select the a storyline from a grid of options
Write – the program automatically extracts text if you upload a PowerPoint file or you can create a script from scratch. It's important to proof-read the text before moving to the next step.
Visualize – The app automatically recommends "scribbles" to use based on automatically identified key words. You can swap out some of the key words for other recommended ones. In addition to using built-in images, you can also upload images, and use text labels. There is a maximum of 7 scribbles per slide. Note that images uploaded to a slide is only available on that particular slide.
Finalize – Choose a male or female voice for text to speech, record sound for each slide, or upload sound for each slide. You can also make a choice to turn subtitles on or off, and select one of three video speeds.
Pros
Users can sign up with their Google account
The app is easy to use.
The steps provide a nice outline, and would be great for students to help them be successful in creating their video.
A video before each step reminds users of how to complete the step. This can be turned off after the first time. Videos can be accessed when help is needed through the help button.
Undo and redo buttons, and delete and undelete buttons are built-in
Finalized videos can be edited (see cautions for limitations).
Cautions
The Terms and Conditions say "You may only subscribe to the Service if you are of sufficient age under the law of the jurisdiction in which you reside to enter into a binding legal agreement". I reached out to @mysimpleshow and got a reply saying it's okay to use the site with students because the site is free and age limits are not enforced.**
It's important that users follow the steps in order, because returning to a previous step deletes all the selections made after that step. This could be difficult/frustrating for some users.
You can also edit text in the Visualize step. When you do that, all the visuals that you have chosen for that particular slide are deleted, and the slide is reset. If a user needs to do this, remind her to take a screenshot first to remember her image selections.
You can add more slides or split slides in either the Write or Visualize step.
You can't record some slides, and have a computerized voice for some slides. If you choose the voice option, there will be no sound for slides where you don't make a recording.
Students can't share ownership of a show. If they are working together, one way to share tasks could be to have students collaborate on a Google Slide to upload. They can also share the responsibility for recording audio for the slides.
The caption is on bottom of the screen and may cover some of your slide. Be conscious of that when designing your slides.
Sometimes text/scribbles disappears too quickly. It might be nice to have 1/2 s – 1 s before a slide is wiped off and a new slide displayed.

** – Update March 29, 2017 – My simple show has added a new pricing structure. There is a free plan, but also fun, business, and pro plans, and enterprise plans. Now, I would caution against having children create their own individual accounts, as that would violate the terms of use.
Here's my example, in which I used text to speech.